The main goal of this subproject is to unravel and understand the complex and diverse interactions between different road users  and AD in a mixed traffic environment, and to evaluate the implications on safety, quality of life, and the attractiveness of cities.The research objectives are the following:
To understand how other road users, such as pedestrians, cyclists, and drivers of manual vehicles interact with automated vehicles.
To develop design variants of the public space where automated driving is intergratedin a mixed traffic environment.
To assess the possible consequences with respect to road safety and urban quality (attractiveness and liveability).
To identify which measures are needed for an attractive, safe and liveable public space with automated driving in terms of (road) infrastructure, regulations, driving training and education.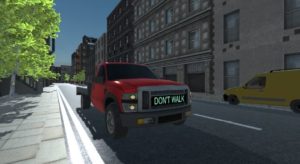 Publications from this subproject include:
Automated driving in urban areas: A conceptual framework based on the literature (Nuñez, 2016)
Safety of Pedestrians and Cyclists when Interacting with Self-Driving Vehicles: A Case Study of the WEpods  (Nuñez, 2016)
---
This subproject is run by Pablo Nuñez Velasco and guided by Marjan Hagenzieker, Haneen Farah and Bart van Arem.